Upright Citizens Brigade Theatre
Upright Citizens Brigade Theatre has affordable, comedy shows seven nights a week in NYC and LA. Watch the best improv, sketch and standup in the country. Our original comedy video productions have garnered the national spotlight. We also run the first nationally accredited improv and sketch comedy school in the country. For information on our courses, visit the Training Center.
Shows

Price

$5.00

Date

Wed January 9, 2013

Time

8:00pm EST

Address

307 W. 26th St.
New York, NY 10001
Reservations
The 2017 Tony Awardz: A Parody of Musical Proportions
See the future of Broadway today! The 2017 Tony Awardz parodies everything about Broadway ever. The nominated musicals have all the clichés and trends you love and love to hate! What musical will win? Will it be the Jukebox musical, the new musical based on a historical figure, the musical based on a movie, or the musical that rebels against all musicals? Find out at The 2017 Tony Awardz!
Starring:
Stephanie Streisand
Michael Hartney
Richard Armstead
Adam Bozarth
Caroline Cotter
Matthew Frazier
Douglas Widick
Written by Stephanie Streisand
Music by Rocco Privetera
Lyrics by Stephanie Streisand & Rocco Privetera
Directed by Evan Greenspoon
Choreographed by Meagan Robar
Videos Directed by Matt Braunsdorf
Graphics by Adam Bozarth
Publicity by Paul Siebold
"The versatile cast, led by Michael Hartney as Peters, applies the right amount of absurd gravitas to the proceedings while displaying considerable vocal ammunition of its own."
--
Edge New York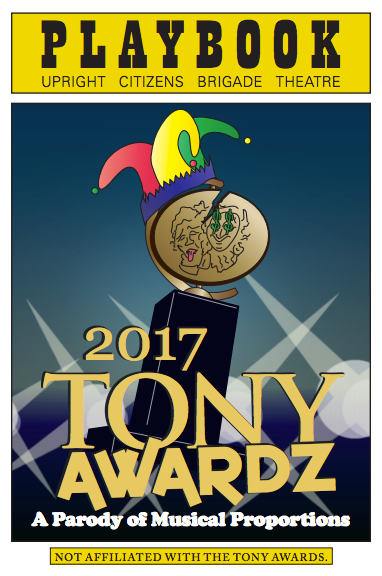 FORMER BUSINESS PARTNERS: Everything Must Go!
Former Business Partners are four traveling salespeople whose car broke down in YOUR suburban neighborhood. They've come knocking... but what are your neighbors doing behind those doors?! The Partners are determined to find out and sell some patented Ice Mix™ in the process. Join Former Business Partners for a sketch journey into the strange lives of the people around you, because everything must go!

Written by & Starring Georgie Aldaco, Danielle Gibson, Viviana Olen and Katie Simon
Directed by Zack Poitras