Upright Citizens Brigade Theatre
Upright Citizens Brigade Theatre has affordable, comedy shows seven nights a week in NYC and LA. Watch the best improv, sketch and standup in the country. Our original comedy video productions have garnered the national spotlight. We also run the first nationally accredited improv and sketch comedy school in the country. For information on our courses, visit the Training Center.
UCB Training Center Alum Alison McDonald Sells Pilot To ABC
Alison McDonald sets pilot at ABC
ABC Studios to produce musical-comedy based on Web shorts
By AJ Marechal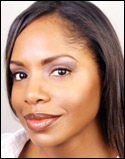 McDonald
Congratulations to UCB Training Center alum Alison McDonald, who just sold a pilot to ABC!
From Variety:
Alison McDonald has set up musical-comedy pilot "She Got Problems" at ABC, with ABC Studios attached to produce.
"Problems" is an autobiographical, screwball laffer from McDonald that centers on the life of an African-American writer who escapes her romance and career problems with a world of musical fantasy. Woman meets her match, however, when she starts working for an outspoken mogul.
McDonald will pen "Problems" and receive a supervising producer credit.
Project is based on McDonald's two short movie-musicals "She Got Problems" and "Alison Is Having a Really Bad Day," both of which McDonald penned, helmed and starred in. Shorts can be viewed on YouTube and at McDonald's website, Shegotproblems.com.
McDonald has logged writing credits on skeins including "Nurse Jackie" and "American Dad!" She is repped by the Kaplan-Stahler Agency and Tracey Murray at Industry Entertainment.